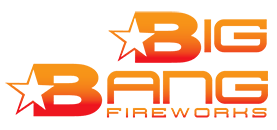 Welcome to Big Bang Fireworks
Florida's Best Fireworks Store!
We have the largest selection of retail and wholesale fireworks at the best prices, available anytime of the year. We beat any other fireworks store's advertised price!
Big Bang Fireworks is the first fireworks store to bring Class C Consumer fireworks directly to the public in Central Florida! We know the best fireworks and only offer top quality products to you.
We are located in Central Florida and have the biggest variety and selection provided by the most well known fireworks manufacturers including: